PlayStation®4 Exclusive
"THE KING OF FIGHTERS XIV"
New "KOF XIV" Demo ver.2
featuring major visual improvements and changes
in the playable cast release announcement!
This new demo ver.2 is a major update of the previous demo version with the significant graphical improvements and 2 extra color variations per character of the free ver 1.10 update of "KOF XIV" that is currently available to download.. Moreover, the character roster of the previous Demo ver.1 has been updated in this new demo as detailed below. Please stay tuned for more exciting news and reveals about "KOF XIV" in the coming weeks and months!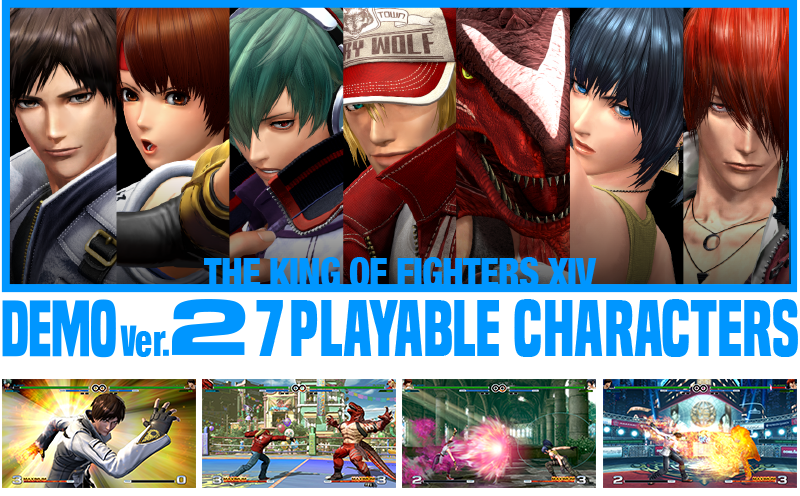 Demo ver.2 breakdown:
Changes from Demo ver.1
・Major visual improvements
・2 additional color variations per character
(for a total of 6 different colors per character)
・Changes of the playable characters
(Terry, Leona, and Yuri are now playable in the Demo ver.2)
Playable characters
・7 playable characters:
①Kyo Kusanagi②Yuri Sakazaki③Shun'ei④Terry Bogard ⑤King of Dinosaurs⑥Leona Heidern⑦Iori Yagami
Game modes
・Newcomers friendly "Tutorial Mode"
・Participate in online battles against either human and CPU opponents via the "VS Mode"
・Train your combos and set ups in the "Training Mode"
Platform
PlayStation®4
Store
PlayStation®Store