PlayStation®4 Exclusive THE KING OF FIGHTERS XIV
4 DLC characters& massive update to be released on April 5th!
We are proud today to announce the upcoming release of 4 new paid DLC characters as well as a free massive update (ver.2.0) from April 5th or the PlayStation®4 exclusive title THE KING OF FIGHTERS XIV (KOF XIV) .
DLC characters breakdown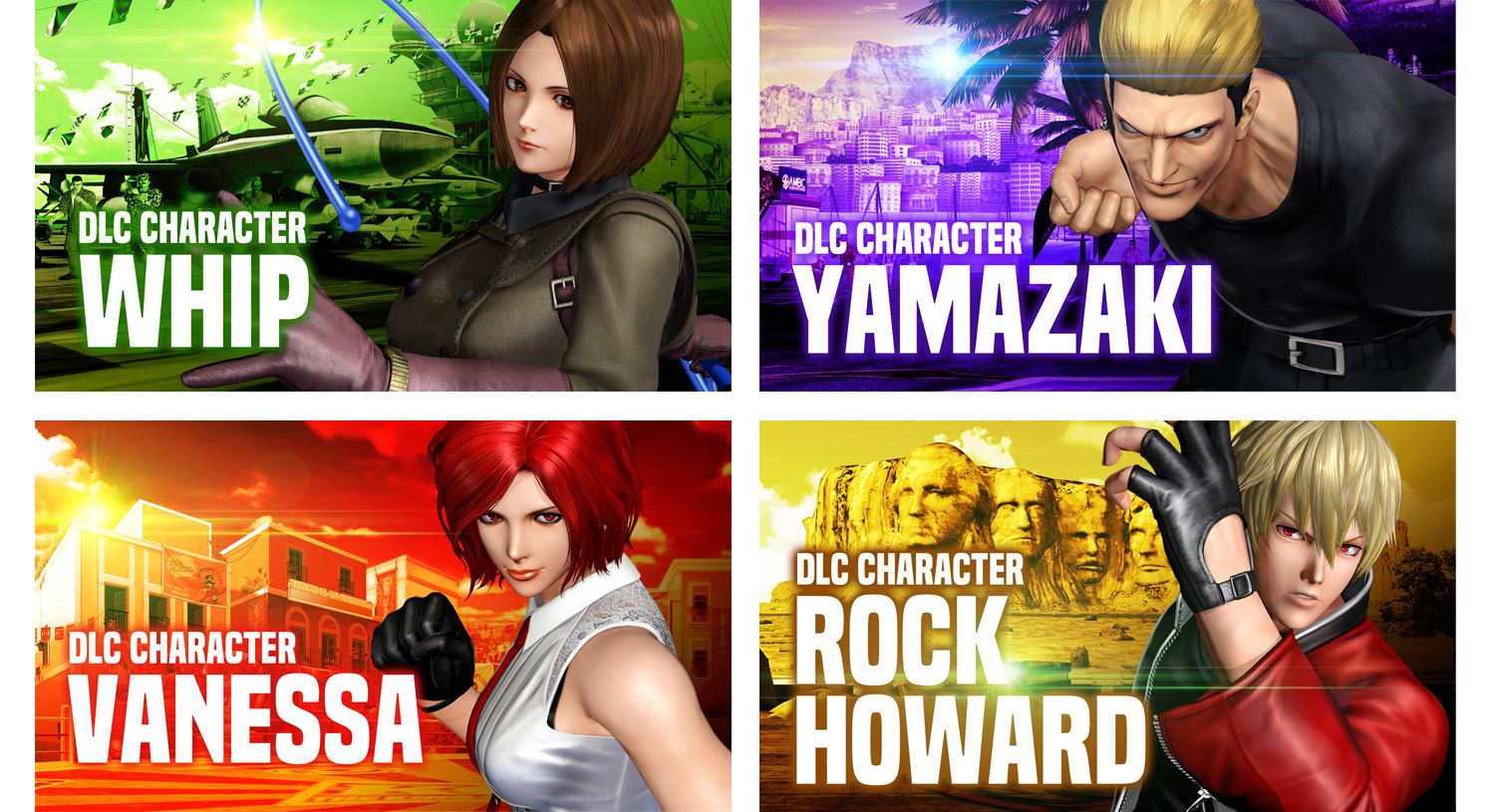 ■ WHIP
Her background largely remains a mystery, but she closely resembles K's deceased sister "Seirah". Whip takes full advantage of her special whip "Voodoo", given to her by the secret organization NESTS. No longer associated with them, she now serves under Heidern's commandment.  
Presentation trailer: https://youtu.be/uJUNmPlLEBA
■ RYUJI YAMAZAKI
An outlaw, who made his name as a broker for the underworld. Despite being a member of the "Hakkesshuu Brotherhood", Yamazaki has no interest in Orochi's resurrection, and he is only in it for his own personal gain. 
Presentation trailer: https://youtu.be/xg_4GWnhHFg
■ VANESSA
Vanessa lives a double life as a housewife and a mercenary agent. She is highly skilled in boxing and is able to KO her opponents with ease. Her husband and kid don't know anything about her secret activities. 
Presentation trailer: https://youtu.be/6roRcCYF2ks
■ ROCK HOWARD
The biological son of the kingpin of Southtown, Geese Howard, and raised by the legendary fighter Terry Bogard. Rock is the ultimate fighter who has mastered Howard's and Bogard's fighting techniques.
Presentation trailer:  https://youtu.be/PTBtkl71aVI
New content included in Major Update (ver.2.00)
・Addition of the revamped nostalgic background stages "Transcontinental Railroad" & "City Circuit" (free DLC content). 
・Rebalancing of the whole character roster. 
・Addition of pattern recording & replay features to Training Mode.
・New BGM tracks to be added.
・Others, feature improvement & minor bug fixes. 
INFORMATION