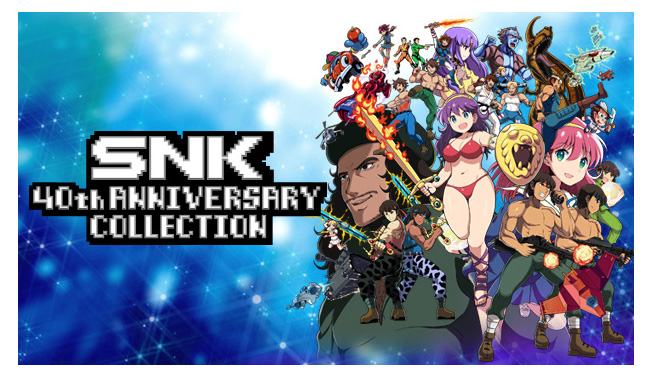 Get ready to enjoy 24 of SNK's finest retro arcade titles
as the SNK 40th ANNIVERSARY COLLECTION hits Steam!
SNK Corporation is proud to announce that the SNK 40th ANNIVERSARY COLLECTION is now available for PC users via Steam.
This collection features 24 classic SNK arcade titles, many of which date back to the Golden Age of arcade gaming — The 1980s! Gamers young and old will be able to experience these classic titles like never before, from unique options and integrated features such as being able to save at any moment, "rewind" functionality, to a robust "Museum Mode" library showcasing the company's history, arcade flyers, art and designs from long ago — there's something for everyone in this retro compilation! Celebrate the golden age of classic SNK arcade games with the SNK 40th ANNIVERSARY COLLECTION, today!
Collection Features
 ■ 24 Classic SNK Arcade Titles!
This collection features 24 innovative and incredible arcade games, many of which took the world by storm back in the day. All the games listed include their arcade versions, but some even have their home console version as well for the most complete retro gaming experience! Relive those tense moments and memories at the arcade right from your very own couch!
■ Packed with Fun Features!
Arcade games back in the day were great at doing two things: wasting time and eating quarters. Nobody has the time or spare cash for that anymore, which is why this collection is packed with QoL features like saving anywhere and time reversal "rewind" option, and revolutionary "WATCH" mode where you can view gameplay videos and jump right into the action at any time! Furthermore, this collection works with all sorts of modern controllers, so now getting that top score doesn't have to just be a dream anymore!
■ Once Classified Documents Now Available in the game's Museum Mode!
Documents such as illustrations, pamphlets, and even character design settings once thought lost to the sands of time have been digitally scanned for your viewing pleasure. Feast your eyes upon years of SNK history right from home!
Titles in this Collection (24 in total)
・Alpha Mission
・Athena
・Crystalis
・Ikari Warriors
・Ikari Warriors II: Victory Road
・Ikari Warriors III: The Rescue
・Guerrilla War
・P.O.W. – Prisoners of War
・Prehistoric Isle
・Psycho Soldier
・Street Smart
・TNK III
・Vanguard
・Chopper I
・Fantasy
・Munch Mobile
・SASUKE vs COMMANDER
・Time Soldiers
・Beast Busters
・Bermuda Triangle
・Ozma Wars
・Paddle Mania
・S.A.R. – Search and Rescue
・World Wars
■Steam Store Page: 
https://store.steampowered.com/app/865940/SNK_40th_ANNIVERSARY_COLLECTION/
INFORMATION
| | |
| --- | --- |
| Title | SNK 40th ANNIVERSARY COLLECTION |
| Developer | Digital Eclipse |
| Genre | Variety / Retro Compilation |
| Players | 1 to 2 players |
| Platform | PC *For optimum settings, please visit the game's steam store page |
| Release Date | June 8th, 2019 |
| Digital Only | (PC, Windows) |
| Retail Price |  $29.99 |
©SNK CORPORATION ALL RIGHTS RESERVED. 
※@2019 Valve Corporation. Steam and the Steam logo are trademarks and/or registered trademarks of Valve Corporation in the U.S. and/or other countries.