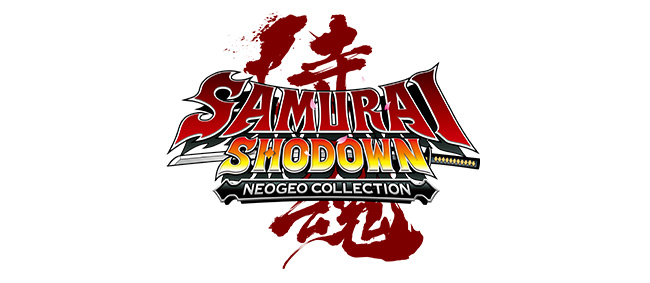 The SAMURAI SHODOWN NEOGEO COLLECTION contains six games and one mysterious, unreleased title… And it is coming out for PlayStation®4, Nintendo Switch™, and PC!
What is more is it will be entirely free on the Epic Games Store
from June 11th at 11am to June 18th, 11am (EDT) ! #StayHome
SNK CORPORATION (Corporate HQ: Suita-city, Osaka, Japan, Company President & CEO: Koichi Toyama) is proud to announce our newest title SAMURAI SHODOWN NEOGEO COLLECTION will be available on PlayStation 4, Nintendo Switch, and PC platforms. Additionally, it is completely free for a limited-time on the Epic Games Store starting from June 11th at 11AM to June 18th, 11AM (EDT)!

The ULTIMATE collection is here!
It all began in '93. And now, the weapon-based fighting game series that swept the world is ready to be taken home as a stellar collection! Six NEOGEO titles as well as one mysterious, unreleased game are featured! What is more is that each game features Online Battle Modes as well as a Museum Mode and Music Player! This collection is a must-have for all SAMURAI SHODOWN fans across the globe!
■Seven SAMURAI SHODOWN titles in total!
SAMURAI SHODOWN was originally released on the NEOGEO in 1993, followed by its sequel SAMURAI SHODOWN II in 1994, and the series became a trilogy in 1995 with SAMURAI SHODOWN III. Soon after SAMURAI SHODOWN IV AMAKUSA'S REVENGE came in 1996, and seven years later SAMURAI SHODOWN V was released in 2003, with SAMURAI SHODOWN V SPECIAL releasing the following year on the NEOGEO in 2004. Never before released to the public, SAMURAI SHODOWN V PERFECT is a mysterious final version of SAMURAI SHODOWN V that is the stuff of legends to SNK fans. Players can select between either Japanese or English MVS arcade versions for each title. Additionally, there are features such as scanlines for that retro flair, save functions, and Arcade Mode can even be set to FREE MODE meaning no more game overs!

■ Each title comes with online versus battle modes!
Get paired up with warriors of a similar level with Ranked Match, or just blow some steam off on Casual Match. Invite your friends (or foes) for a beat-down in Challenge Friend. Take on SAMURAI SHODOWN fans across the world with the push of a button.
*Note: Online Battle Modes are only available for English ver. SAMURAI SHODOWN titles.

■ A Museum Mode brimming with content!
The Museum Mode within this collection is packed with over 2,000 precious development documents and images; it is everything a SamSho fan would want! There are even hours worth of candid videotaped interviews with the developers, as they discuss what happened during development back in the day. Prepare to dive straight into the world of SAMURAI SHODOWN with this collection!


■ Over 200 tracks in the Sound Player!
Relive the excitement of the SAMURAI SHODOWN series by listening to its wonderful soundtracks. There are over 200 tracks to choose from spanning six titles in the Music Player found inside the museum.
【Information】
■Title
SAMURAI SHODOWN NEOGEO COLLECTION
■ Developer
Digital Eclipse
■Genre
Versus Fighting Game
■Platform / Release Date
Epic Games Store (PC Download): Free from June 11th, 2020 at 11AM to June 18th, 2020 at 11AM (EDT)
Steam (PC: Download): June 18th, 2020
PlayStation®4 (Download): July 28th, 2020
PlayStation®4 (Package): Coming this summer
Nintendo Switch (Download): July 28th, 2020
Nintendo Switch (Package): Coming this summer
■Price
$39.99
■ Players
1 to 2 players
■ Official Site
https://www.snk-corp.co.jp/us/games/ssngc/
■ Trailer
©SNK CORPORATION ALL RIGHTS RESERVED. 
* PlayStation is a trademark of Sony Interactive Entertainment Inc.
* Nintendo Switch is a trademark of Nintendo.
* © 2020, Epic Games, Inc. All rights reserved. Epic, Epic Games, and the Epic Games logo are trademarks or registered trademarks of Epic Games, Inc. in the United States of America and elsewhere.
* ©2020 Valve Corporation. Steam and the Steam logo are trademarks and/or registered trademarks of Valve Corporation in the U.S. and/or other countries.
* All in-game footage displayed is work-in-progress. Design and specifications are subject to change.
Free for a week on the Epic Games Store!
With the world put on hold due to COVID-19, we wish for gamers out there to #StayHome and enjoy the SAMURAI SHODOWN NEOGEO COLLECTION, completely free when downloaded between 11AM on June 11th to 11AM on June 18th (EDT) only on the Epic Games Store.
■ Platform
Epic Games Store (PC Download)
■ Free Download Period
Between 11AM on June 11th, 2020 to 11AM on June 18th, 2020.
※ An Epic Games account is necessary for download.
※ The game can continue to be played after the event is over.
※ The game will go on sale starting June 18th, 2020.
TITLE BREAKDOWN
『SAMURAI SHODOWN』 (1993)
In a world dominated by fighters where opponents duked it out with their fists and kicks, SAMURAI SHODOWN sliced into the scene with its brand-new take on the genre. Not only does each attack hit like a truck normally, but damage actually increases further due to the implementation of a POW meter that fills up upon taking damage. This, coupled with its unique setting and boastful roster of 12 peerless warriors made this game a phenomenon that everyone was talking about. Do you have what it takes to take down SHIRO TOKISADA AMAKUSA?

『SAMURAI SHODOWN II』 (1994)
This game further expanded the thrill of the fight by adding forward and back rolls, a low-attack dodge, and an attack that breaks the opponent's weapon! These additions to the game brought it into a-whole-nother level of skill and precision unlike any fighter at the time. HAOHMARU goes up against his long-standing rival, GENJURO KIBAGAMI, as well as three other additional characters – bringing the roster to a total of 15 warriors.

『SAMURAI SHODOWN III』 (1995)
This title took the SAMURAI SHODOWN series onto a different path with an overhaul to the button and system settings. Players can now choose between two different fighting styles for each character, named Slash and Bust. Additionally, players can now choose between three grades when choosing a character. These are Beginner Class, Medium Grade, and Upper Grade, which add a lot of depth and complexity to an already complex game.
12 warriors set out to bring ZANKURO MINAZUKI's reign of terror to an end. Will they succeed?
『SAMURAI SHODOWN IV AMAKUSA'S REVENGE』 (1996)
Following the previous installment comes new additions in the form of a CD 14-multislash combo and Rage Explosion (w/ Fatal Flash and Link Slashes to boot!). Additionally, the single player campaign features a timer and the ending received changes on the time finished. Warriors from past titles join up with new faces to form a hearty 17-character roster. As the name implies, SHIRO TOKISADA AMAKUSA is back again but is weak as his spirit was split in two. If he succeeds in his quest of joining both halves, the world will be plunged into darkness forevermore.

『SAMURAI SHODOWN V』 (2003)
Seven years would follow until the series saw another sequel on the NEOGEO. Four new characters including MINA MAJIKINA, and YOSHITORA TOKUGAWA join the roster bringing it to an explosive 24 characters. The game system has been updated with new features such as a Sword Gauge and a state of meditation called Concentration One. The series was back on track with its game balance being focused on devastating blows and quick dodges.

『SAMURAI SHODOWN V SPECIAL』 (2004)
The final game sold on the NEOGEO. Every character is now equipped with a devastating Overkill attack. This title brought balance changes that truly gave players the thrill and excitement expected out of SAMURAI SHODOWN. Now, with the inclusion of previous boss characters, the roster stood at a girthy 28 bloodthirsty warriors.
『SAMURAI SHODOWN V PERFECT』 (Previously Unreleased)
The gameplay of SAMURAI SHODOWN V SPECIAL has been left untouched, but this previously unreleased title features a brand-new story and ending. This is the TRUE and FINAL game made for the NEOGEO.


INFORMATION