THE KING OF FIGHTERS XV is now available!
39 star-studded characters are ready to fight!
SNK CORPORATION (Corporate HQ: Suita-city, Osaka, Japan, Company President & CEO:Kenji Matsubara) is proud to announce our latest fighting game, THE KING OF FIGHTERS XV, is now on sale today, Feb 17th, for PlayStation®5, PlayStation®4, Xbox Series X|S, Windows 10, Steam, and the Epic Games Store.

KOF XV Product Trailer
KOF XV Special Animation Short
SHATTER ALL EXPECTATIONS
The new "XV" that transcends everything!
Since its debut in 1994, the KOF fighting game series has been driving the world to excitement with its appealing characters and unique game system. Six years have passed since the last title in the series, and now KOF XV surpasses all of its predecessors in terms of graphics, systems, and online experience!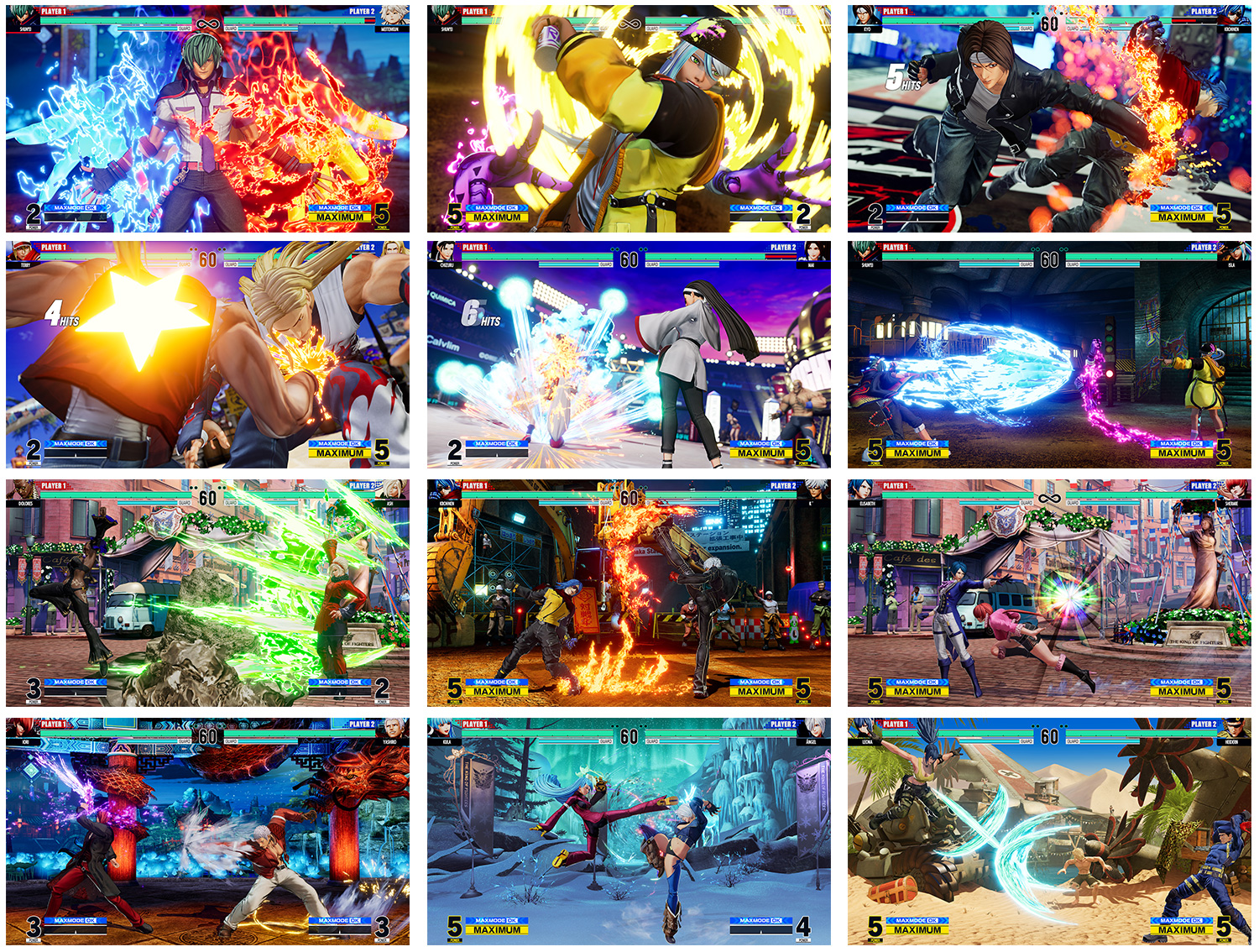 CHARACTERS
A total of 39 characters are participating! 12 more planned DLC characters are also coming!
KOF XV features a whopping 39 characters, including classic popular characters, resurrected fan favorites, and those crucial to the unfolding events. Additionally, 12 more fighters are joining as DLC. This is the first time the heroes from each Saga have come together, making this the hottest dream match yet!

12 DLC characters coming in 2022!
bringing the roster to a massive 51 playable fighters!
The first wave of fighters is Team 1 (Team GAROU) which will release in March, with the second wave Team 2 (Team SOUTH TOWN) releasing in May. Team 3 releases sometime during summer with Team 4 releasing in autumn. Each team is comprised of 3 fighters, so the total number added onto the current roster of 39 means players can expect to fight with 51 star-studded characters in KOF XV!

KOF XV TEAM DLC ANNOUNCEMENT TRAILER
STORY
KOF's story reaches its climax!
The latest KOF Saga continues from the previous title in Story Mode. Heroes from the Orochi, NESTS, and Ash Sagas have all joined this KOF. This time, the story is coming to an explosive climax!

SYSTEM
The culmination of the series' battle system
KOF XV features the classic 3 on 3 team battle system. New to the series is SHATTER STRIKE, a new mechanic that enables players to counter enemy attacks. Additionally, players can experience an improved MAX Mode, as well as MAX Mode (Quick). The RUSH function allows for combos to be carried out all by rapidly pressing attack buttons. All these features, including revamped and vibrant special moves, will ensure fights in this game feel more explosive than ever. Strap in, as KOF XV features a battle system bursting with speed and excitement unlike any other!

ONLINE
Easy and versatile online play
KOF XV features rollback netcode. KOF XV features a wide variety of online features including RANKED MATCH, CASUAL MATCH, ROOM MATCH, and ONLINE TRAINING. There's also the new DRAFT VS mode, which pits you against an opponent as you try to nab your favorite character before they can.
CONTENTS
KOF is fully packed with content to enjoy
In-game cinematics and character voices can be enjoyed in the Gallery. Additionally, the new DJ STATION features over 300 popular songs from the KOF series and more! Players can even customize their fights to have their favorite tracks play in the background! 

INFORMATION
Title

THE KING OF FIGHTERS XV

Genre

Versus Fighting Game

Release Date

February 17th, 2022

Platform

PlayStation®5/ PlayStation®4/ Xbox Series X|S (Physical Ver. Digital Ver.)

Windows 10/ Steam/ Epic Games Store (Digital Ver.)

Line up/Price

THE KING OF FIGHTERS XV Standard Edition

Base game/ Physical Ver., Digital Ver. /$59.99/€59.99

THE KING OF FIGHTERS XV Deluxe Edition

Base game + KOF XV Team Pass 1 (6 DLC characters)/ Digital Ver./ $84.99/€84.99

KOF XV Team Pass 1

KOF XV DLC Characters "Team GAROU" + "Team SOUTH TOWN" (6 DLC characters)/ $29.99/€29.99

KOF XV DLC Characters "Team GAROU"

3 DLC characters(1 Team)/ $15.99/€15.99

KOF XV DLC Characters "Team SOUTH TOWN"

3 DLC characters(1 Team)/ $15.99/€15.99

Rating

ESRB: Teen / PEGI: 12

Players

1-2 Local / 2-8 Network

Additional Information

Cross- generation enabled between PlayStation®5 and PlayStation®4

Cross-play enabled between Steam and Epic Games Store

Upgrading from the PlayStation®4 version to the PlayStation®5 version is available free of cost.

*You will need a PlayStation®5 console with a disc drive to upgrade the PlayStation®4 version (disc version) to PlayStation®5.
©SNK CORPORATION ALL RIGHTS RESERVED. 
※"PlayStation" is a registered trademark or trademark of Sony Interactive Entertainment Inc.
※©2022 Valve Corporation. Steam and the Steam logo are trademarks and/or registered trademarks of Valve Corporation in the U.S. and/or other countries.
※© 2022, Epic Games, Inc. All rights reserved. Epic, Epic Games, and the Epic Games logo are trademarks or registered trademarks of Epic Games, Inc. in the United States of America and elsewhere.